If you are building on a new lot, building an addition or tearing down an old structure to build a new one, understanding your needs for an onsite sewage system is imperative to its success. Let SES take you through the process from initial evaluation to completion including operating and maintaining your alternative onsite system annually.
During the design process we will be able to give you choices with costs as opposed to designing something that doesn't suit your needs or that you can't afford to install or operate after it's installed. The cheapest systems in Virginia are usually not the best value as they cost more to operate on an annual basis or require major maintenance every 4 to 8 years.
Soil, Perc & Design
Do you have property with one or more of the following limitations or needs? No problem for SES!
Limited Area
Steep slopes
Shallow, rocky, clayey, wet or sandy soils
High groundwater
Sites where the current system has failed
Coastal Areas where nutrient removal is required
Commercial Properties like Restaurants & Schools
Subdivision and Communal Systems
Our Certified and Licensed Professionals ensure the soil investigations are completed in a timely manner and in full compliance with all State & local codes. Mapping, classification and suitability studies for onsite sewage disposal systems are completed with the latest GPS and Auto CAD technologies to better evaluate your property. Saturated hydraulic conductivity testing is standard with SES. Most other forms only employ these methods on large system and commercial sites. Whether you plan on building on raw land, adding on or a complete tear down & re-build, establishing the location and type of onsite sewage system necessary to handle your plan is an essential element. Call SES and schedule a very affordable initial consult on your property and we'll get you headed in the right direction. Use SES to complete the work and we'll apply 1/2 of your initial consult fee to your final invoice. Most initial consults can be scheduled within two weeks.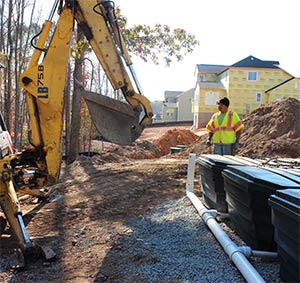 Install & Repair
Now that your soil study is complete, your design is done, your permit is issued it's time to install it. Why let anyone other than SES handle this important task?
We know you, we know your lot and we know installation. Our installation crews and foremen are some of the most experienced in the State and are properly licensed for alternative and conventional systems. Our design build process ensures you won't get lost in the process with required construction inspections, health department certificates or operations permits. SES handles all of these things and gives you an operations permit for your system two weeks before your scheduled closing. We guarantee it or your first year of O&M is free.
Pumping & Maintenance
SES Company's licensed operators determine when your septic tank or other treatment tanks need to be cleaned as a part of all of our standard service plans.
Most local Health Departments recommend that septic tank systems be cleaned every 3 – 5 years depending on the use and age of the septic system. Those who live in the Chesapeake Bay Preservation area are required to have their septic tank systems pumped or inspected every five years.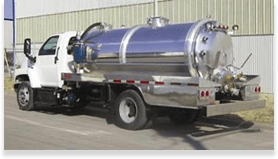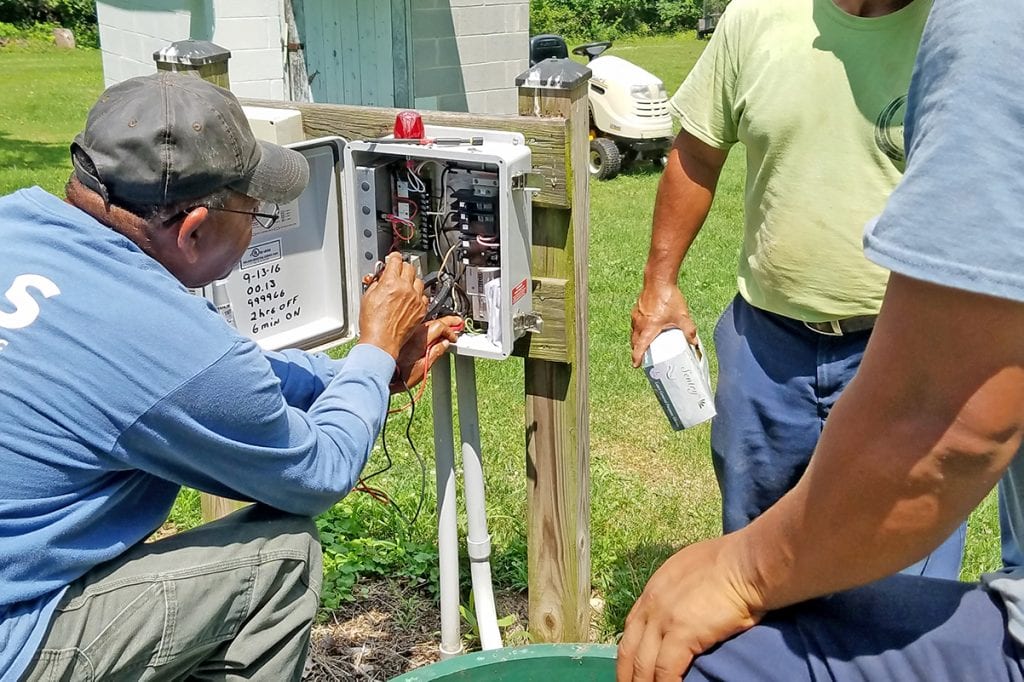 Inspections
When buying or selling a property with an Onsite Sewage System most purchasers and lenders require an inspection and certification that the septic system is functioning properly and with routine maintenance is expected to function properly for the foreseeable future. SES offers a standard and a comprehensive inspection by licensed onsite wastewater system operators, installers and onsite soil evaluators. New laws in Virginia require the owner of a property served by an onsite septic system to disclose the presence and any maintenance requirements to purchasers of real property in Virginia. But, as always, it's buyer beware!

Standard inspections can satisfy most lender requirements for newer conventional and alternative onsite sewage systems to confirm that the system is not malfunctioning as defined by The Virginia Department of Health. When questions arise during a standard inspection, when inspecting a complex alternative onsite sewage disposal system, older conventional system or when a dwelling has been unoccupied for more than 30 days a comprehensive inspection is recommended.